"The secret of a high-ranking website is not its colours but its content." – Amit Kalantri
It's no secret that you need a good website to have a successful brand. For the vast majority of us, our websites are the front door through which customers start to do business with us.
Maybe they find you digitally via a search engine or content channel. Or perhaps they've met you in person and hop on your site to find out more about you and your services.
In any case, is your website set up to handle the interaction from there? Can it convert this new lead into a prospect and even a buying customer?
Win with your words
I would venture to say that most brands, when they envision a good website, think first in terms of how it looks. And for good reason.
A picture is indeed worth a thousand words. And as much as people love trends from the '90's, the websites are not one of them.
But the words–the copy–on the site are generally regarded as an afterthought. This is a mistake.
As Donald Miller puts it, "people buy into ideas (and purchase products) only after they read words that make them want to buy." Call it old-fashioned if you'd like, but your words still matter.
Writing is easy. But copywriting is hard. Here are 4 keys to help you knock it out of the park on your website.
Key #1 – Keep it brief
The average amount of time someone spends on a website, across all industries, is between 45-60 seconds. So your site is no place for a novel.
Unfortunately, word-vomit tends to be our native tongue. So we write long paragraphs that cause a site visitor's eyes to glaze over rather than read on.
To counteract that, create a new paragraph every two sentences–maximum 3. Like I am right now!
Simply put, blank space makes content easier to read–especially in a digital format. So use it to your advantage.
Secondly, try to avoid outweighing an accompanying visual with your copy. 
This means you don't want a text section that's substantially taller than the visual. Besides looking awkward, the contrast will make the text section seem even more wordy and disincentivize the visitor to read it.
This will put the onus on you to condense what you want to say–a healthy challenge!
Key #2 – Nail your headlines
When most people visit your site (especially for the first time), they're actually not reading it. They're scanning it to see if it's worth reading.
This means that many folks are only reading the headlines of your site. Do yours sell your product in a quick and coherent way?
To find out, go to the homepage of your site and read only the headlines. Write them down one after another and see if they make sense together or not.
Another consideration you'll want to have is your "above the fold" section–the part of your site that people see before they scroll. You want this to communicate 3 things in under 3 seconds:
What you do

How it makes customers' lives better

What they need to do in order to get it
The easiest way to hit all three points are via your title, subtitle and a call to action button. View the example below: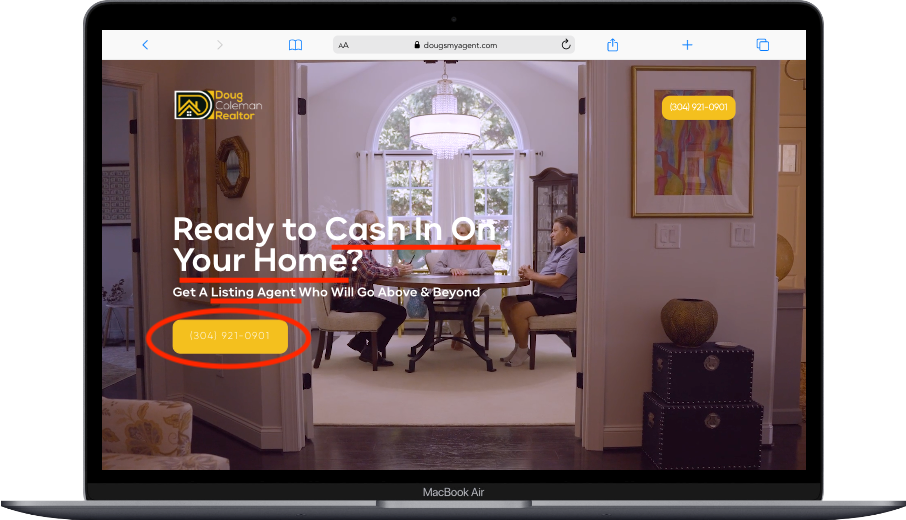 Key #3 – Strategize your sections
A lot of folks–marketers, even–write a website by starting with a blank page and just flowing with what feels right. Or they look at a premade template and go from there.
I'm not against writing from intuition or inspiration. But you also need a strategy to create a website that truly has converting potential.
When writing a site, make sure each section is covering a core element of what's needed to sell your product or service. And in my experience, two major elements often get left out.
The first is a thorough discussion of your customer's problem(s) that you're helping them solve. 
A lot of us shrink from talking in terms of problems because it feels too heavy-handed and negative. Or worse–salesy and manipulative.
And I get that–I'm no fan of Negative Nancy's or Manipulative Mark's myself. 
But it's a mistake to turn down the 'problems' dial on your site. Instead turn up the 'empathy' dial and talk about their problems with sensitivity and tact.
When you don't talk about their problems, your customers will tune you out. It's as simple as that.
The second missing section is a 'stakes' section. This is where you discuss the positive benefits customers experience and the negative consequences they avoid by doing business with you.
Many folks shrink from talking about the stakes because they feel like it runs the risk of over-promising and under-delivering. And again, I'm not advocating for any Salesy Sam's over here.
But it's a mistake to turn down the 'stakes' dial. Instead turn up the 'genuine confidence' dial and communicate clearly how you're helping them.
We do people a disservice when we require them to try and imagine what their life could be like after doing business with us. As the expert, it's your job to cast that vision.
Key #4 – Know your voice
Maybe you've heard the aphorism, "It's not what you say; it's how you say it." And in marketing as in relationships, the saying holds some valuable truth.
In your copywriting, you'll need to consider what tone of voice your customers will appreciate hearing most. I ask all my clients whether they want to sound like:
A teacher

A coach

A counselor/therapist

A friend
Each of these personalities has different verbiage, flow and even grammar associated with them. 
A teacher's voice will lean more heavily into informational and instructive language. Their primary goal is to

educate.

A coach's voice will lean more heavily into inspirational and actionable language. Their primary goal is to

motivate

.

A counselor's voice will lean more heavily into empathetic and emotional language. Their primary goal is to

understand

.

A friend's voice will lean more heavily into informal and conversational language. Their primary goal is to

relate

.
Do some self-reflection as to the voice that fits your brand and your customer base best. If you're struggling to identify it, consider surveying a batch of current or past clients and gauge their responses.
Still need help?
If you still find yourself doing the digital equivalent of crumpling up pages and throwing them in the wastebasket, you may benefit from some more hands-on training or outsourcing your copywriting entirely.
I offer packages ranging from website coaching, copywriting, and full builds. Let's schedule a call to see if any of them could be a good fit to get your site speaking the right language.